Connection is in the Cards
Create closer connections with the ones you love. One-of-a-kind, handmade cards make a lasting impression—unlike impersonal, store-bought greetings.
With Annie's CardMaker Kit-of-the-Month Club, you'll be inspired by every shipment to create 8-10 unique cards. Uncover the joy of card-making and share the benefits with friends and family!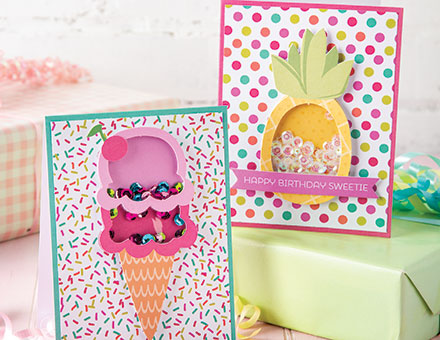 Inspiration to connect
Greeting cards are meant to be shared! Card-making offers the perfect avenue for sending thoughtful notes to the ones you love. Learn exciting new crafting skills and cultivate closer connections at the same time!
Stocked with supplies
Each kit delivers new supplies, such as patterned and specialty papers, die cuts, stamps, ink pads, cardstock, envelopes, ribbons and tons of decorative accessories -- enough to create 8 to 10 cards! Annie's makes starting a new hobby easy! The tools needed are in our CardMaker Starter Pack available on our shop page! You'll also need common household items like scissors and glue.
Beginner-friendly
Whether you're a new cardmaker or a seasoned pro, our kits are suited to every skill level. You'll also have access to online tutorials for every project, every step of the way.